ISBN: 978-1-927685-39-6
Publication date: TBA
Order print book: TBA
Order e-book: TBA
Cover illustrations: Canva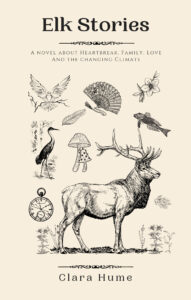 I'm so excited to announce the book I'm working on now, Elk Stories. The novel takes place in the Appalachian hills of eastern Kentucky, a place I spent many childhood summers and holidays, as we would visit my mother's relatives who lived in a holler. I had so much fun with my siblings and cousins back then. We climbed the ranges of hills behind the holler, shared witch stories, investigated old shacks, and got to eat my mamaw's wonderful cooking. One of my favorite past-times was hanging out on the front porch with my papaw who whittled, smoked, and told us many wild stories. These times are cherished memories and inspired Elk Stories.
About the Book
Lizzie Collins raised her family in the Appalachian hills of eastern Kentucky. Her daughters, Eleanor and Jean Louise, left the coop after high school and after their father suddenly died a decade prior. The family remains close, but with one daughter in Chicago and the other in southern California, the three women continuously face the hurt left behind when John Lee, husband and father, died years ago. Now Lizzie is showing signs of memory loss. It started with getting lost, not remembering dates and important facts correctly, and repeating herself. But now, Lizzie's sister, Aunt Kay, needs to share the news that Lizzie is diagnosed with Alzheimer's and is vehemently denying it.
The oldest daughter, Ellie, lives near Chicago in a big estate in which she feels lost. In every corner of the house she sees the ghost of her husband, who left a year ago after having an affair. Together they have a three-year-old daughter named Bailey, whom the husband doesn't see regularly. Ellie is struggling to decide her new path in life. She quit working when Bailey was born and wonders if she can find a new job now. She is still grieving what she thought was a good marriage and life path. She decides the perfect getaway is visiting her mother.
Jean Louise, the youngest daughter, lives in southern California and just lost her job at a surf store, where she excelled at crafting boards and giving lessons. She also volunteers with a local nonprofit that educates the public on the health of the California coastal waters. She slept with her surf store boss on a particularly rough night, and though he got a slap on the wrist, she was fired and shunned by those who worked at the store. Shortly after, she is sitting outside her mobile home on the beach, drinking a beer, when Ellie calls to tell her the news of their mother. Saddened, Jean wants to figure out her future too and is concerned about her mother's health. She is still with the nonprofit and might have a chance to work for the organization. She is worried about protecting ocean health where she lives and wants to do something about it.
Jean begins calling her mother on Friday nights, relieving Ellie of watching their mother that one night a week. Lizzie loves to talk with her daughter Jean, sometimes for hours, and together they began to discuss the girls' ancestry, how she and John Lee (the girls' father) met and fell in love, and everything else beneath the sun. Jean thinks that her mother's memory is great when it comes to reminiscing about the far past, but when it comes to the present, she often repeats herself and comes up with confabulated stories. The stories are wild and unrealistic, yet her mother tells the tales as if they are real and happened to her.
Both Ellie and Jean Louise talk about when Jean can come to visit. Summer is almost here, and Jean hasn't gotten a new job yet. Will she also go back to Kentucky and face the old house without her father? Will she get to see her cousins who were once close, but whom she's lost touch with? What will happen with their mother?
Elk Stories is a multifaceted tale that peels away time and confronts bittersweet memories. It uncovers regrets and desires, losses and gains. Layered within the novel are reminders about the way life moves forward, sometimes beautifully and sometimes too fast and painfully. We learn we can never truly get back people and things we've lost, especially when time marches on. The harsh background to this is that we have also irreversibly changed the planet and its climate, and the future is full of even more uncertainty than usual. Elk Stories looks at truths and illusions, the strength of family, and the power of memory and carrying on traditions. Despite some tearful moments, the story is ultimately positive, especially when it comes to finding the determination to move past our personal traumas and taking actions to ensure we go forward together to ensure a healthy world for our future generations.