Here it is, my favorite season, though I am not ready to let summer go–and my one and only grandchild has come into the world, brightening the first of autumn with more brilliancy! I never imagined myself a grandmother. It feels like something reserved for old people. I refuse to be or feel old, but at the same time, I am over the moon about this new life. Finn Wilder was born the morning of September 23rd. I was immediately smitten and overwhelmed with emotions when I saw his first few photos. Although the parents don't mind us all sharing photos, I will add just a few here and there, trying to keep some semblance of privacy.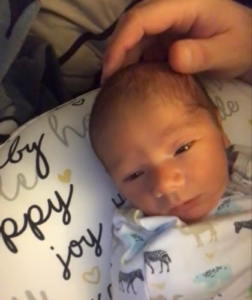 I was a very young mom. I got pregnant at age 19. That son is Finn's dad. I am now reliving my early mom years. I look back with love at those early years, which were tough at times as well. I've been talking a lot with my son in the past several months. I think the prospect of him settling down made us closer than ever, and we've had some genuinely nice conversations–not that we didn't before, but having his own kid put some things into perspective, I think, so naturally he reached out to parents for conversation, dreams, etc. We have so many memories, and have talked a great deal about my parents, who my son was always enamored of. I think one nice thing is the sharing of memories of my own dad, who was, as I have written often about, a great, fun, and wise dad and grandfather. It's wonderful to be able to share memories about my dad with someone who also remembers him so well and learned so much from him. One thing we all remember is my dad's love of the outdoors and the way he'd take us to places like Turkey Run or Cumberland Falls and get us all out on the trail or into a river. It's the same kind of legacy that my son and his partner both have–they love to hike and have a true appreciation for being outside rather than in. So Finn seems to be sure to have that life as well.
I decided to write a series of illustrated children's books for Finn, entitled The Adventures of Finn Wilder. The fist book is done and will be published in about a month. It's called Finn's Tree Alphabet. Each book in the series will evolve with Finn and be based upon fictional stories or educational literature. The theme will be nature and the great outdoors. I was watching The Dead Poet's Society again the other day and thought about another book later about carpe diem. The movie established the carpe diem idea as seizing the day with a sort of macho narrative, but the term is more likely akin to plucking life as if it were ripe like a fruit. I thought it might be fun to do some little adventure books that simply go outside and pluck life.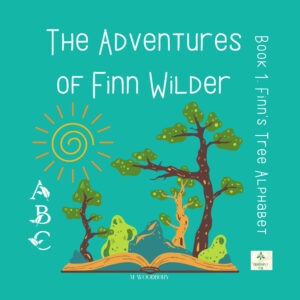 I started a website just for the adventure series, but will publish the books through Dragonfly Pub, so you can get updated here or there. Once Finn gets older, I will stop doing the children's books. I can imagine how as a teenager, he might be embarrassed, but I am also only inspired by his adventures, not reflective of anything real–and hope to entertain other kids too!
The first book is already done, so I still need to work from now until the end of the year on my second novel. And I have another job interview–and this one seems to have more potential than the last one, so I'm excited about that!