The point of this post isn't necessarily about pumpkin ale but about my usual theme: life revolving around the seasons. However, I did find pumpkin ale on sale already at the local liquor store, which was a surprise. Last year I didn't find any until mid- to late September. This year I found a brand called Nine Locks Harvest Pumpkin Ale, and it's one of my favorite so far. I am still not quite ready to let go of summer, though. We're currently in a heat wave, but it ends tonight, and I hope it's the last one we get. Yesterday the humidex was nearly at 40C, and I spent a lot of time in the basement, where it was cooler, ensuring that the garden's drip hose was going.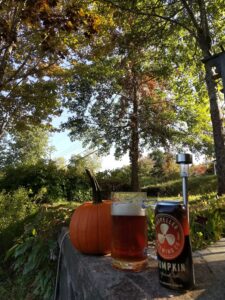 As we ready for fall and winter, we received two cords of wood and Morgan built a little shelter for it (the photo does not show all the wood yet, as it is a process to stack that much).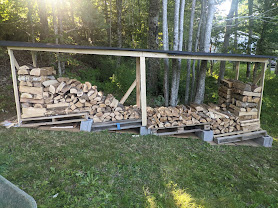 Speaking of the garden, I have had a wonderful crop of turnips so far, including turnip greens! And the corn is coming in nicely too. Most everything else is prodding along or ready to pick anytime, like the onions and leaf lettuce.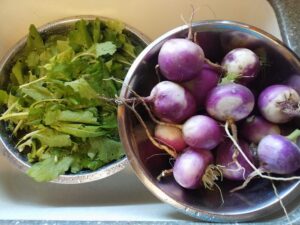 We've had a few get-togethers at our neighbor's place. They have a larger property and a greener thumb. We've gotten several cucumbers, zucchinis, and potatoes from them. Below is a photo of a recent gathering. It was getting cool, so they lit the fire beneath the kettle holder (after serving wonderful Ukranian soup).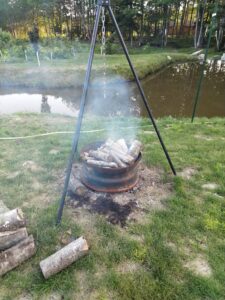 We get so many veggies from our neighbors that ours feel insignificant so far, but we've also shared a lot of turnips, apples, pears, rose hips, and various other berries with them. Just looking at last year's canning season puts me in the mood for it again.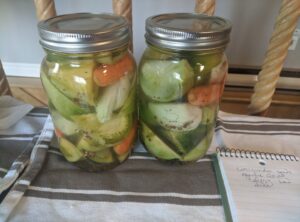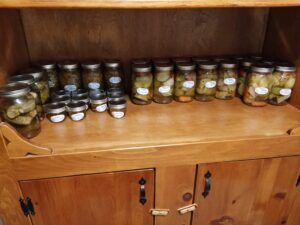 We had our second bonfire recently. Honestly, it has been a rainy summer, so it has not always been possible, but it's nice to get out beneath the stars and talk into the wee hours of the morning.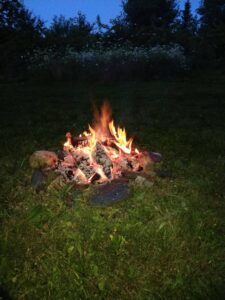 And, of course, a couple obligatory photos of the back property–one in full sun and one on a misty day.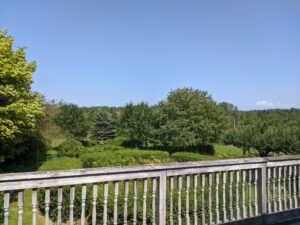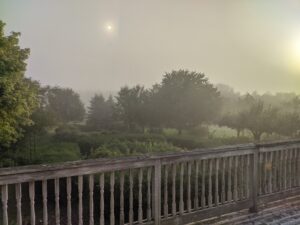 We're getting ready for company and have finally finished a few projects around the house, including the completion of painting two rooms in the basement and furnishing them with bedroom stuff. We also painted some trim in the basement bathroom and fixed a messed-up area beneath the closet with the water heater. We finally did some upgrades to our kitchen, including a dishwasher–the first in many years of not having one–and an extra cabinet space that has a large countertop for meal prep. The previous owners did not have very good storage, though the kitchen did have a new oak cabinet space and a lot of oak cabinet storage spaces in the basement hallway. But, no coat closet in the living room and very small bedroom closets. It's a relief that we've completed these projects on the house just in time for some company, the first family that has been here since we moved at the start of the covid crisis last spring. My mother-in-law and one of her friends are visiting tomorrow and will be here for three weeks. I'm so excited as all of us are vaccinated and careful, and it'll just be great to see family again! They're coming from the interior of BC, which has been full of heat waves and wildfires. They got up to 50C a few times, which is just unprecedented.
We've planned some bonfires and an early Canadian Thanksgiving since we haven't been able to celebrate with anyone for awhile. I'll be making some native recipes, including bannock bread, maple-brined turkey, wild rice, and various salads with berries. I'm also doing an October Fest one evening. And we'll be visiting some places we haven't been to yet, like Cape Breton, a few beaches, and possible Prince Edward Island. I'm looking forward to that. All during this hot summer, I've longed to stick my body in the ocean but just haven't been able to do that yet.