ISBN: 978-1-927685-32-7
Print publication date: January 2023 (ordering TBA)
E-book publication date: December 7, 2022 at Smashwords

The Stolen Child is the final part in the Wild Mountain Series. See more about part I, Back to the Garden.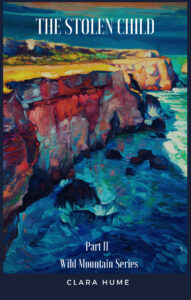 In The Stolen Child, we'll find a world unrecognizable to those of us in living in the early to mid-21st century.  Fran and Leo's youngest child, Fae, goes missing after extreme wildfires force the family off their Idaho mountain. Fae's story is told in short interludes, which contrast with the first person narratives written by the adults around her, as her life is upended and she ends up in Schull, Ireland, the home of the "last wolf in Ireland." As her family sails through new waters in Canada, and then across the Atlantic, to find her, a romance grows between Fae's older brother Alejandro and his best friend Kristy. Yet, the backdrop to the blossoming relationship is a journey to find the missing child, sinister and full of mystery, speculative about an even more drastically climate-changed time than the one we're experiencing now and one in which false narratives and dangerous ideologies continue to flourish.
The Stolen Child is inspired by WB Yeats' poem of the same name, and by Fae's mother Fran's childhood interest in Irish mythology. Fae's story reflects the literal stolen child. The story also follows her family and friends as they go to the ends of the world—the waters and the wild—in their search for her, so the story also recognizes the figurative trappings of the modern world.
Come away, O human child!
To the waters and the wild
With a faery, hand in hand,
For the world's more full of weeping than you can understand.
Human suffering is wrought by many things, but in Fae's case, a strange religious cult is taking children. Is it to protect them? Something more sinister? Find out as the second part of this duology travels to the new wilds of northern British Columbia and then Ireland.
Early on in the story, we'll meet the fates of many characters we loved in Part I, Back to the Garden–and a reading guide is available to those who want to dig in to this book without reading the prequel.  A new generation is ushered in–children from some of our favorites–like Fran, Leo, Mae, Buddha, Maisie, Caine, and more. Fae is the youngest of them all.
The publisher has licensed an unlimited print run of the cover art by ©borojoint – Can Stock Photo Inc.