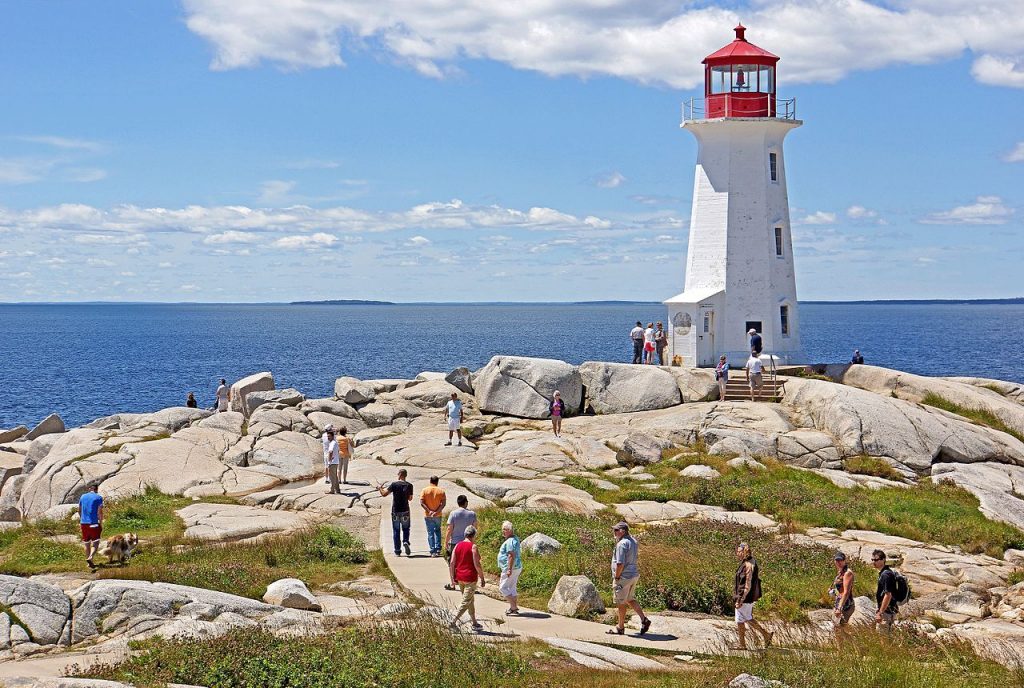 I hinted in my last post that we're considering a big life move–all the way to Halifax, Nova Scotia, from our home near Vancouver, BC. Some hurdles need to be jumped over first, including my husband securing with his job that he could transfer there. His boss was supportive of it, but it's not final. And because it's not final, allow me to write about it, even if we end up staying in our current home, which of course we love as well!
I recently read something where a person wrote of being "free" and not living a life like everyone else, as if their perception of freedom and living the way they wanted was somehow better than the "common" folks' version. Arrogant people just irk me–I want to put a LOL there, because I'm not like mad about it. But guess what, folks? There's some real tragedy in the world, and many people do not dream or do not have a way of getting into their dreams. I'd take a gander most of us do enjoy our lives, and if we don't, then maybe we're just in the middle of things. I think it's harsh to pretend those of us who might be able to follow our dreams are somehow better or freer than everyone else. Or that our dreams are better than everyone else's. As Yeats pointed out in his poetry, freedom from cultural trappings is another kind of prison, and this particular person seems perpetually trapped in things despite their constant egocentric viewpoints (this is not someone I know, by the way, nor who knows me; it's just something I read recently). And it's doubly ironic that this person pretends to embrace diversity but still acts as though their own life and their own dreams are better than anyone else's. I'm just trying to say that dreaming is good for all of us, even if it sits in the head or on the pen. Being able to move upon our dreams does not make one better or freer than anyone else; it's just a way to live, a way to wander. And we're just all wandering on this planet anyway.
My dreams have culminated from a lifetime of certain experiences, some of which I want to get back to, like living in an unfettered rural area. Like having land to run around in. Like getting out of the city. I don't like crowds or big noisy affairs. I'm at the point that some of my nostalgia is coming full circle. I'm so lucky to have Morgan, who also is into a big change. Also, to move to a place named as the "New Scotland", above the wild Atlantic across the ocean from my dreamy Ireland, a place close to my heart, seems like the next best thing. To move back to harsher seasons–more snow and cold–would make me feel at home too. A slight less rain. It's an eastern-maritime climate, which is slightly milder than that inland.
However, if we don't move, I don't mind. We love our jobs; mine is getting better with a newer office and a good understanding of the work I do. I've been at the job almost seven years. British Columbia is beautiful as well, probably more so than the east coast, though the ocean here lacks waves due to islands to the west. This province is where Morgan's family all lives. It's slightly closer to my daughter and niece in fly time. If we move to the Halifax area, we likely will not fly much due to carbon emissions. We will be slightly closer by road or flying to the rest of my family in the Midwest. There are pros and cons. Sometimes the weight of this dream to move gets a little scary, but most of the time I feel hopeful in doing what it takes to do this. I have lived all over North America, or visited it, and do not feel afraid by change. Sometimes I wonder if I've been in BC just a little too long, going on 12 years now. The longest I've lived in any place ever.
We've been spending a lot of time looking at houses near Halifax, out in the country. We have a few "wants" in mind. Some land, not a lot but maybe 1-3 acres and a place for a real garden. A front porch where we can hang a swing. A wood-burning fireplace or woodstove. A way to make the energy otherwise solar and possibly with a wind turbine. (I learned from my friend Ron, who has lived off grid for decades, that in colder seasons–which Nova Scotia has a lot more than we do–his wife cooks on a wood stove in the morning and the heat rises and helps heat the house for the rest of the day.) Maybe a claw foot tub. I want an office window looking out over trees, to inspire my writing. Yes, I was always envious of John Boy Walton who sat at his desk to write each evening, overlooking Walton's mountain. Those are the main things I have always wanted in a house. Morgan wants some kind of outbuilding for a a wood-working shop. I might want to have some chickens. Self-sufficiency is key to us. Outside that, I guess we're not too picky. I am kind of looking for older homes with hardwood floors and some character, which we may need to do a little work on.
We've started a list, in case all this happens, and have tried to figure out the cheapest way to do the move. We'll auction off most of our current possessions and transport only some things we don't want to get rid of: our cats (of course!), computers, some clothes, and some books. We will slowly accumulate things in the new place but really want to live a minimalist lifestyle–buying only used or repurposed things in the future. And only what we need.
We figure that we may have to ship our electric car across the country. It's hard enough finding working or available charging points here in Vancouver. We don't feel we can rely on finding them  on the over 6,000 KM drive to Halifax. Almost 4,000 miles. And that's dipping into the US. It would be easier, but probably slightly longer, to stay on Canada highways. We figure it would be most convenient to rent an RV for a one-way trip, which is cheaper than staying at hotels or shipping cats (and I really doubt our cats would like being shipped anyway; they can ride with us). I once moved from Indianapolis, IN to southern California and took with me my daughter, our cat (who did splendidly), some books and clothes, and my computer, all in a Ford Taurus. Similarly, when I moved to Vancouver, I drove up with my husband, from Indianapolis, IN, across the country again. I drove back by myself to help take care of Dad one summer and to sell my jeep. We relied afterward on public transportation.
If we do this, it would likely be by spring 2020. There's so much to do. Selling all our stuff, cleaning the current house, notifying our jobs, preparing the cats for such a long trip, trying to stay with relatives and friends along the way–Kamloops, Fruitvale, Toronto, etc., or just at RV parks. Looking for a new job for me once there. Finding a house.
Thanks for letting me dream on the page! I will update the blog about whether this happens.
The featured image is by Dennis Jarvis from Halifax, Canada – DSC01066 – Peggy's Cove Lighthouse, CC BY-SA 2.0