Title: Bird Song: A Novella
ISBN: Print: 978-1-927685-35-8; ebook: 978-1-927685-36-5
Author: Clara Hume
Publication date: November 4, 2020
Category: Fiction/novella
Ordering: Pre-order the Kindle version at Amazon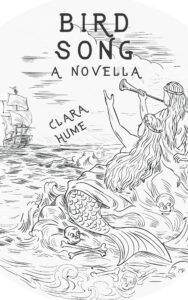 Bird Song: A Novella is a twist on Greek mythology, a climate change parable, a coming-of-age story, and a tale of weirdness. In this YA story, Thelsie wakes up on a strange island where nothing makes sense, not the singing sisters she meets, the extraordinary plant and animal life, the uncanny faeries that whisper at night in the forest, and definitely not a strange shipwrecked survivor.
It also does not help that her dead mother appears to her with riddles.
The book cover's art is copyright by Patrimonio, and the publisher has unlimited print run rights through Can Stock Photo.