Category: Young reader fiction e-book
Author: Mary Woodbury
ISBN: 978-1-927685-41-9
Ordering: Smashwords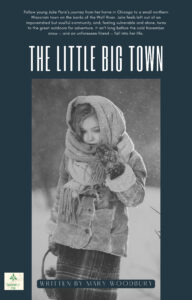 Follow young Julie Paris's journey from her home in Chicago to a small northern Wisconsin town on the banks of the Wolf River. Julie feels left out of an impoverished but soulful community, and, feeling vulnerable and alone, turns to the great outdoors for adventure. Here she learns about the Menominee history of the area and lets her imagination run wild. It isn't long before the cold November snow—and an unforeseen friend—fall into her life.
The first edition of this book was by Moon Willow Press, our imprint. Proceeds at the time, from book sales,  resulted in 260 trees planted by Alliance for International Reforestation (AIR), a Guatemala and Nicaragua based planting partner of  Eco-Libris: Back then they had a "plant a tree for every book you read" initiative. Eco-Libris' planting partners included Sustainable Harvest International (SHI)–Belize, Honduras, Nicaragua, and Panama;  RIPPLE Africa (a non-profit organization involved with environmental projects, education, and health care in Malawi, Africa); and AIR. Each of these partners worked with areas in the world suffering from deforestation. Eco-Libris' tree-planting program provides a valued source of sustainable economical and ecological aid to these areas.
The book cover is designed by author Mary Woodbury, and the cover image art is copyright by Erstudio and Can Stock Photo, in accordance with the End User License Agreement.