Today is my favorite day of the year: summer solstice, marking also the longest day of the year. I made the usual trip out to the garden to weed and water our growing plants and began to think of creating a faerie tree, more on that in a bit. I went out to market, got a few things, including a couple bell pepper plants. The woman at the nursery was super sweet, and when I paid for yet another wind chime, she thought it was lovely and then I felt old suddenly when I told her I would hang it on my faerie tree.
Our garden is growing nicely. We got a late start on it, mostly due to frost in late May and also because of the first plants never germinating in the garage and needing to try a second take, which worked. I planted directly into the ground beans, squash, and corn (the three sisters) as well as beets and turnips. I also transitioned tomatoes and cukes, though they look frail still. Some delicate bunch onions, dill, and lettuce are still in the garage, but I doubt they'll do well because they aren't very strong and I'm so afraid of transplanting them. I still have one-half of a garden bed to mess with but am not sure what else to plant right now other than the peppers  I bought earlier. I dream of growing jasmine, one of my favorite flowers, but it's not a perennial and will die off in the winter. We have several little arches outside, which the jasmine would look great on, but there would be no way to transfer it inside once winter comes. There's nothing better than the scent of fresh jasmine on the breeze. I could do a large potted jasmine and bring it in to the heated garage during the winter. Alas, today I could not find jasmine anywhere. Maybe I can look for those cheap burlap potting sacks that I found back in the Vancouver area, when I planted sugar pumpkins. Problem is, nearly everything was on lockdown as growing season began, due to a rise in covid cases, and only now it is opening back up. We often talk with Morgan's dad and his partner, and they tell us that gardening is a process of learning every year what not to do. It is so true!
Today I am dressed in a summery dress. Its color is between cerulean and turquoise, and at the top are a few embroidered flowers that look like poppies, but it's hard to tell. The dress goes all the way to my ankles. It's one of the few pieces of clothing that I brought here for summer. I like wearing it. It puts me in the mood for nonchalance and lackadaisical whatevers.  Before going out today I started the drip hose and looked at how tall the corn and beans are today. Each day they grow by a few centimeters it seems. As I drove down to the next town over, I passed the big lake between here and the market and admired its shimmer and the winds of the hot day blowing through my window.
It is the good time of summer, after black flies are gone. Mosquitoes are still pesky, but if we layer at night (and it's cool enough to do so), we are fine. The crickets haven't started singing yet, but I have seen one lightening bug so far. It's not quite as hot as last year, and we have had plenty of rain. I've only had to water the trees a few times. Tropical storm Claudette is on her way and should slide to the edge of us tomorrow night, bringing more rain and gales, but today is clear blue and as as perfect a summer day as one might get–warm and flavorful, sprinting with the scents of roses and the numerous other plants in our yard. Our yard is quite wild, not the nice landscaped version that so many home owners want these days. We allow tall grasses in the meadows, deer to eat fruit when it fall off the trees in late summer, and the various pollinators a place to call home, or at least seasonal territory.  I believe we have no more true room to plant trees–as each needs its space to root and expand and we've planted 28 last year and another 11 trees and 20 berry bushes this year. Morgan wanted to plant some sea thrift up by the road, but now is thinking poppies and columbine. From the road, our house is downslope. The previous owners built retainer walls, made of stone, to capture excess water. We have some beautiful maples, oaks, and one pine tree in the front yard, and this year also planted two pawpaws, a mulberry, and some lilacs. But up by the road is kind of a thin layer of grass, and Morgan has ordered the poppies for that area.
We noticed some hoofprints through our strawberry patch today, but it looks like the deer left the strawberries alone. Though we have already harvested a lot of the wild strawberries that come up in each summer–tiny, super sweet fruits–the strawberries we planted don't have fruit yet. I want to build a short fence around it, with a pull-up chicken wire lid, so that the deer and birds won't get the berries.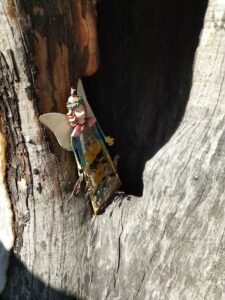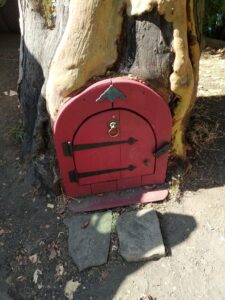 Okay, about the faerie tree. I was talking with my son yesterday whose girlfriend is pregnant. I had him when I was 19! This is going to be my first grandchild, and I cannot wait to share his name later. I'm in love with it and helped come up with the middle name, and all who know me will get it. Anyway, they just bought a house, and he told me that his partner wanted to make a faerie tree in their yard for their son. He is due in late September. I have seen faerie trees a few times. One was on Salt Spring Island two summers ago, and another on the west side of Vancouver Island in a cathedral forest. The ones I've seen are put into the trunk of a big tree that already has some sort of hollow in it so that you can put a little faerie door on it and, inside, put other things like a faerie stool or figurine. For anyone whose read my novel Back to the Garden, the main character was intrigued by faeries as a child; in the second novel we learn that eventually she gave birth to a daughter named Fae. So I created this private Facebook group just for us to chat about ideas as well as for them to post photos of their house and yard and other projects. I also invited my daughter, who is also always creating home projects, and my sister.  It's a great way to keep in touch with immediate family, but I have to find a medium that everyone's on. Another idea for a faerie tree is one from Irish mythology that usually involves a hawthorn tree, since faerie believers thought that the hawthorn was how the faeries arrived into the modern world from a subterranean world. I talked with an Irish author, Evie, a few years back, and she said it's kind of weird, but most people don't truly believe those superstitions anymore, but farmers will not cut down a hawthorn tree in the middle of their field–plowing and planting around it only. Many will leave gifts for faeries on the tree, like ribbons and other things, in order to not piss off the faeries. Just luckily we have a hawthorn out back. The featured image above shows how it looks behind a rose garden and bird bath. Here it is up close. I think I just want to decorate the base of it somehow, but am still thinking of what, exactly to do!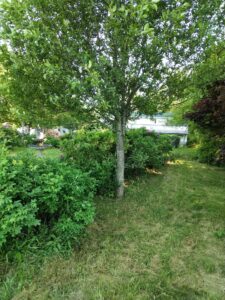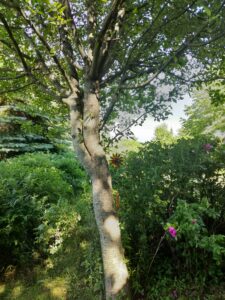 Well, friends, that's it for now. I could write on and on about the subtleties, pleasures, and imaginaries of summer, but at some point you have to get up and go back outside to actually enjoy it, and that's what I'm about to do! Plus there's a little matter of preparing some Kentucky mules for later tonight, to celebrate summer solstice.