I have been offsite for about a week and have three upcoming interviews and a few books to add, so I am a little behind. I was not quite ready for a week that would prove to be very hectic–but one in which I did not cease my running schedule. If anything, this past week proves to me that I love to run, that I will do it even when things get tough and I have traveled 5,579 miles.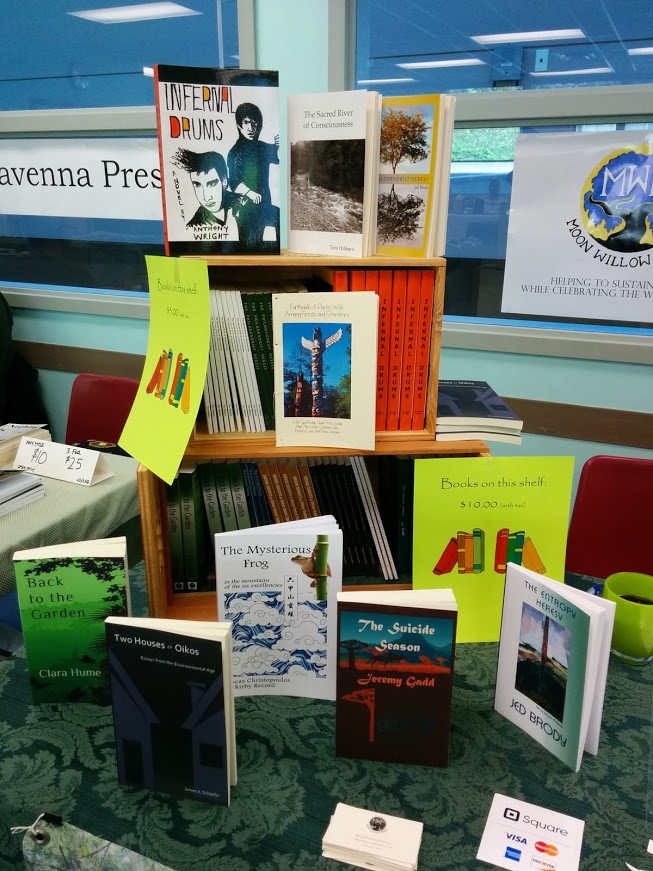 Last weekend my mother-in-law visited, and we took the ferry to Nanaimo, BC, on Vancouver Island, directly after work on May 2. I attended the Cascadia Festival there, the first book fair I've attended in about a year. I find that these fairs are terrible for selling but great for connecting with others in the field. It was really a good experience, and I ended up seeing writers I've worked with in the past, some even having met only through e-mail.
After we closed our booth on Saturday, we went for a drink at an outdoor bar on what was a beautiful, sunny late afternoon. Later my mom called to let me know that my Aunt Helen had died that day. It was sort of unexpected, though she was 79. She had Alzheimer's and had had a massive stroke the day before (the stroke was unexpected).
I ruminated on whether I could possibly go to the funeral. Instead of holding it the weekend after, my cousins decided to have the funeral on Wednesday so as to not always associate her funeral with Mother's Day. The next morning, my husband and I got up early and ran along the Nanaimo harbor. Gorgeous weather!
On Monday, my boss let me know he could work it out so that I could take some time off this week, so as soon as I left work on Monday I packed for the trip to Chattanooga, getting up at 4:30 am the next morning to fly down. I got to Chattanooga around 10:00 on Tuesday night and stayed up late, until almost 1:00 am reuniting with cousins and other family. Sitting outside sipping beer or wine, chatting on a humid night, with soft trees and the sounds of birds, crickets, bullfrogs, etc. made me feel alive. I felt very good to be at my "home" in the South and among these people who have held me since I was a baby (I am the youngest cousin). My mother woke up at 6:30 the next morning, and I got up, exhausted, but did my run that morning, and it was hotter and humid than I'm used to. I got back in time to shower, breakfast, and get ready for the funeral–which was an upbeat service. The procession afterward, through rural fields surrounding the city, reminded me exactly of places I have often visited down south. After the funeral, we went to one of my cousin's houses. She lives on the same mountain my aunt and uncle had lived on, and it's so rural up there that there is no cell service, which was actually quite nice. The house was big and had lots of land. We spent hours outside talking and catching up among the wildness of the mountain; at one point we dangled our feet out the back of a truck as we went up the mountain to visit my aunt and uncle's previous home, which is now owned by a family friend. This feeling of hanging feet out the back of a truck was so freeing and brought my cousins and me back to our other memories of just letting go and having a good time, as we have throughout our lives.
I had to fly back Thursday and got home after midnight that night, just to wake up early the next morning and work. Again, I ran Friday morning (I was at the end of the 2nd week of the 10K training program)–and it felt very good to run off the cobwebs in my brain. Friday, directly after work, we once again hit the road, this time to Kamloops for the weekend, where we celebrated my husband's grandmother's 99th birthday. Because Sunday seemed like a bad time to run, I ran Saturday morning instead, without giving my legs a day to rest like usual, but it was not too bad. That afternoon we once again enjoyed the outside; how I love talking with relatives beneath the sky, near flowers, under a strong sun and blue sky. Indoors is for sissies.
Anyway, it's been a very busy time, but running is my act of grounding. Whether before a funeral, before a birthday celebration, or on a morning where I've had little sleep before, I feel that running is an act I cannot forgo. Despite exhaustion, it feels wonderful. So this has been a good week despite some sad news. I think this is the most diverse my running has ever been in one week–5,579 miles traveled in a week and still finding nice jaunts to run a few miles among these different cities.