One thing I always missed when living in Vancouver was having a bonfire. Burning was prohibited unless you wanted to burn charcoal in a metal pit for cooking outside.
Where I grew up in central Indiana, in corn and cow country, we knew a lot of farmers and spent time at their acreage, which included fond memories of bonfires outside beneath millions of stars. Or, we'd make fires when camping. Now we live in a place where we can have a bonfire pit in our backyard unless there's a fire ban. We've been having a heat wave for weeks now, at least on and off, and not much rain. Currently we are restricted to having bonfires only during the evening and overnight. Other areas of Nova Scotia have a complete ban. Anyway, we've only had three bonfires so far. It's a nice way to spend time with each other after his work, after my literary work, and it's free for the most part except for the cost of the firewood.
We had another bonfire this past Friday night, and it was wonderful. I took a photo of the back meadow before we built the fire. The sunset was spectacular, as it often is around here.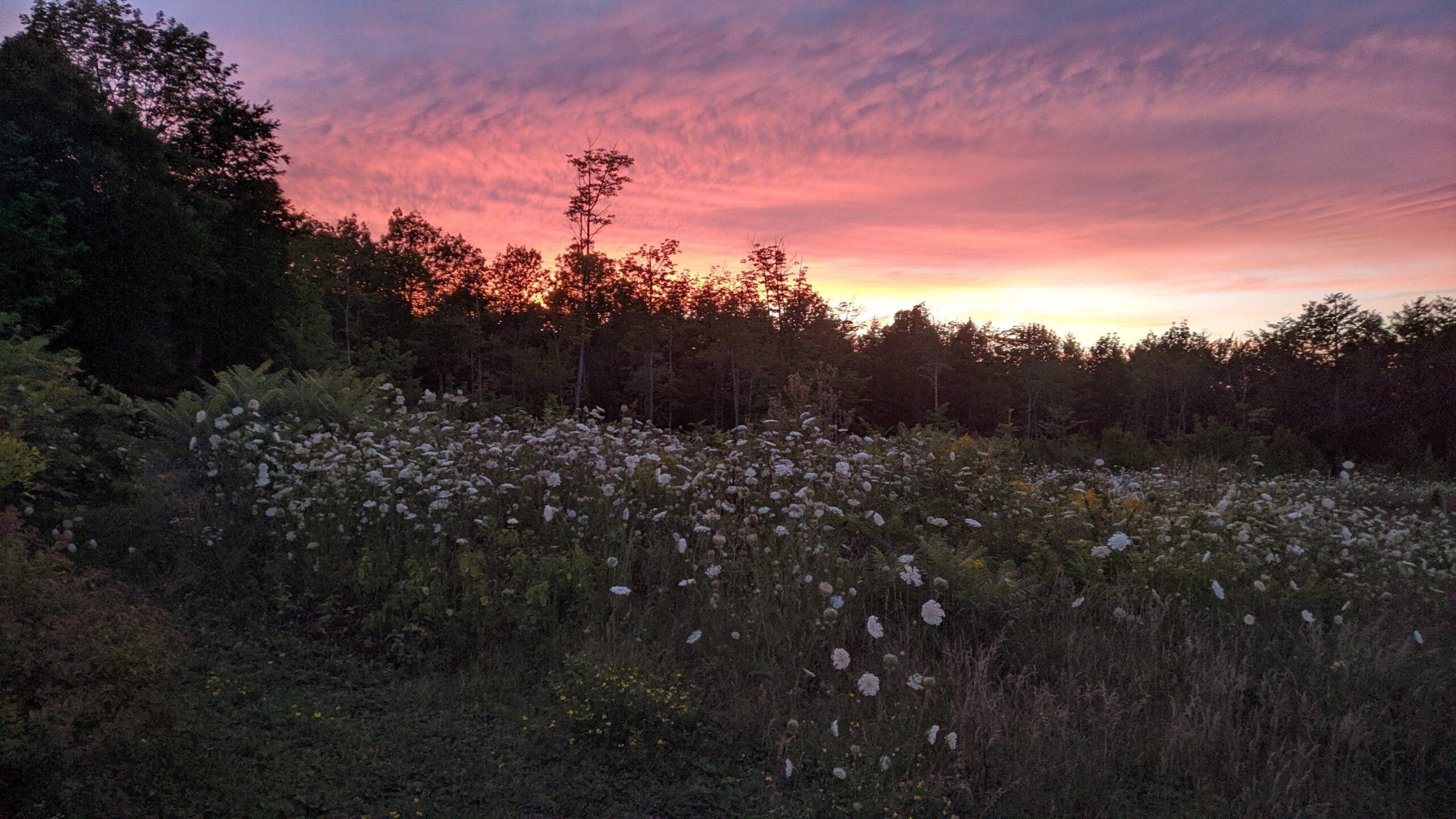 The one thing that kind of ruined the night was that the neighbors to one side of us seem to play their music outside at all hours of a day and night. We came in at 1:00 am, and they were still going at it. Luckily it's not the big subwoofer type of music, but it's annoying. That side of the house is also where the gazebo and sun porch are, so not very quiet or peaceful. I got some fairy lights to string somewhere, and I'm not sure where yet, since the places I would like to enjoy are too near where they hang out.
We decided on Friday night that I would build a new bonfire back further out in the meadow, however. I tested it out back there and could barely hear the neighbors at all; there's some natural sound barriers (three spruce trees, wild grapes, etc.). Anyway, it was still pleasant and nice to hang out like that. Still hoping, however, that the neighbors are just summer type people and will not like being outside during the colder nights in the fall!
All the other neighbors are pretty quiet around here. The ones on the other side–we never hear a peep from. There's a subdivision behind our meadow on one side, and it is also quiet. Behind our house is just a forest and maybe another house somewhere back there, though we cannot see it.
Anyway, I don't want to complain. It's still really quiet here compared to the campgrounds of British Columbia, where we had bonfires before. The one negative is the mosquitoes! I was bitten in a few places even though I had on long pants, socks, shoes, a long-sleeved shirt, and later, when it got cooler, a sweatshirt.
Despite the heat wave we've been having, nights are always cool. It feels like autumn at night, and I can't wait to hang my fairy lights and hang outside more in the evening once the mosquitoes go away. I am thinking of hanging one set of lights on the back balcony, which is further away from the loud neighbors and maybe another set in a tree near the new bonfire.
Anyway, sorry for being the slow blogger these days. Life is full. We're having to do some reno on the house (basement) and probably will do more painting. Plus I'm busy writing, editing, and doing projects for Dragonfly.eco.